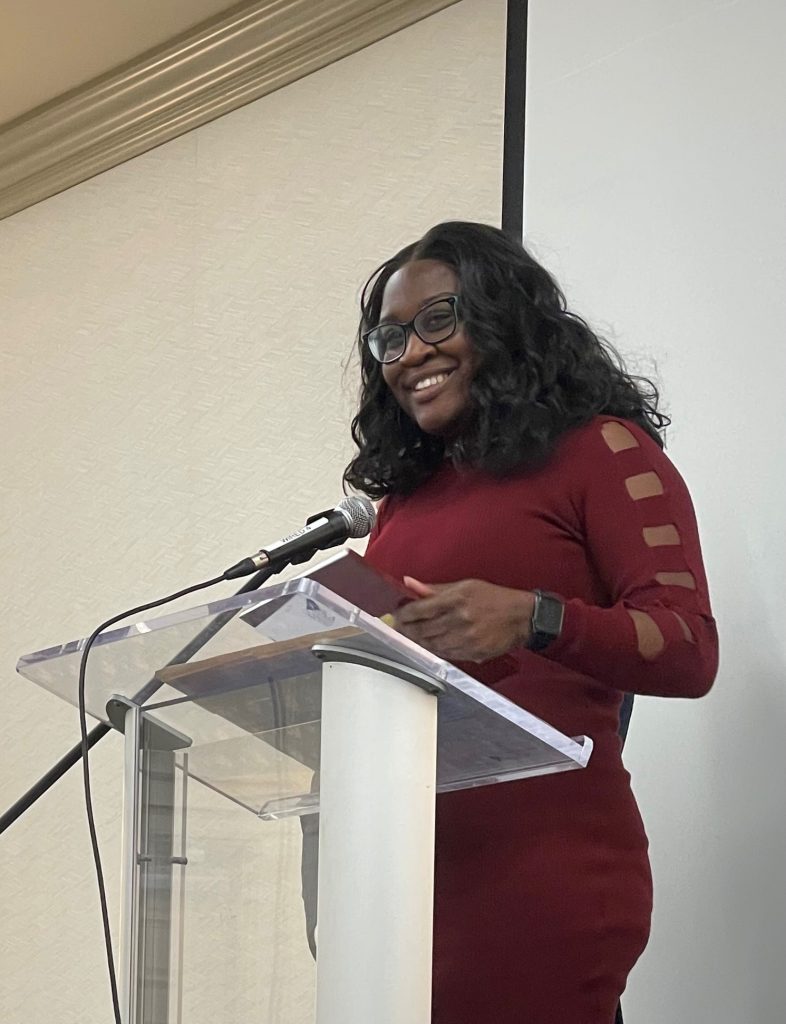 On December 2, 2021, Cynthia Jones, LPN an employee of Wilson Senior Care – Oakhaven received the 2021 Long Term Care Nurse of the Year Award at the South Carolina Health Care Association's Winter Conference.
For 23 years of dedicated service, progressing through the ranks of C.N.A., to Restorative Nurse to LPN and Wound Care Nurse while packaging those experiences to positively lead Wilson Senior Care's isolation units through the Pandemic, Wilson Senior Care's Executive Director and members of the company's leadership team proudly nominated Cynthia for this award.
Dennis Lofe, President & CEO of Wilson Senior Care shared, "While the COVID-19 Virus has impacted the long-term care industry like no time in our history; the result is that every facility in our State has their own individual set of Heroes that stepped up to the challenge. Cynthia is certainly one of those outstanding heroes."
Cynthia began her healthcare career as a C.N.A. at Oakhaven Nursing Center. Within two years she transitioned to a Restorative Aide and served as such until she earned her LPN degree in 2008. She continued her dedicated service as an LPN until she assumed the position as a Wound Care Nurse in 2010, a position that she serves today.
While providing a history of dedicated service to the residents of Oakhaven Nursing Center in various capacities, that is only where the story begins. This year's recipient stepped up during COVID like no other …
Wilson Senior Care, during the early days of COVID, established separate isolation units at both our Loris and Hartsville locations. When we asked for volunteer staff to serve in these units, Cynthia Jones was the first in line when we opened the units and the last to leave when fortunately, we were able to close the isolation units.
Cynthia claimed "ownership" of the units and lead the isolation teams. She emphasized proper infection control by following, training, and monitoring Wilson Senior Care Infection Control procedures based upon both CDC and DHEC Guidelines. With the unknowns of the virus during the early days of the Pandemic, she knew that the only way to protect the residents and staff was strict adherence to the guidance.
While in the isolation units, the residents looked forward to their "Ray of Sunshine" when the radiant positive presence of Cynthia was on the unit. Several residents regretted "graduating" from the isolation
unit and back to a regular floor because they were going to dearly miss Cynthia. While in the isolation units, Cynthia always accommodated families who requested window visits or zoom visitations.
Brock Oates, Executive Director of Wilson Senior Care – Loris stated, "In all my years as a Nursing Home Administrator, I cannot think of a nurse more deserving of the Nurse of the Year Award then Cynthia Jones."
Samantha Robinson, RN, Executive Director of Wilson Senior Care – Cynthia didn't only take care of the residents at Oakhaven Nursing Center, she provided care for resident at four of our sister facilities as well. Her hard work and dedication have shined not only in Darlington, but in Hartsville, Loris, and Myrtle Beach. She is the true definition of a HERO as a first line worker in our COVID Unit".